China Three Face Turning Lathe for Valve body
Product Detail
Product Tags
Automatic three-head CNC Machine Tool
Application
Huadian CNC machine special for Valve is mainly used in processing Valve, Pump body, Auto parts, Construction machinery parts etc.It can work for many procedures,for example, End face, The outer circle, The front edge,Inner hole, Grooving, Screw thread, Bore-hole and Sphere.It worked with Huadian CNC Controller(or Siemens,Guangzhou CNC Controller), It can realize automation, high precision, multi variety and mass production.
Main Feature

(1)Our machines all feed with Huadian CNC Controller(or Siemens, Fanuc), can achieve double spindle linkage then finish to process Bore-hole, Screw thread and Sphere. The  CNC Controller has good compatibility, powerful function and easy operation.
(2) The Feed  Sliding table guideway use high quality gray casting iron,trough rough casting, tempering and aging treatment by three times. Fully eliminate the residual internal stress, The surface of the guide way adopts super audio quenching and the hardness is up to HRC55. Through high precision grinder processing, to ensure the accuracy, rigidity, stability.
(3) The transmission part adopts precision ball screw and interpolation to eliminate the gap,to ensure the machine drive steady.
(4)The power head is equipped with three - stage manual speed change with powerful motor,achieve low speed but high torque, can withstand heavy cutting load, improve processing efficiency.
(5)The working equipment adopts Hydraulic pressure-automatic clamping, to improve efficiency and reduce labor intensity.
(6)The machine adopts Centralized lubrication, to ensure that the full lubrication of each moving parts then improve the service life of machine.
Machine Structure
Our machine is mainly composed of body, power head,CNC feed sliding table,CNC cross-feed cutter, Hydraulic pressure equipment,and equipped with an independent electric cabinet, a hydraulic station, a centralized lubricating device, a cooling automatic chip remove device, and a high protection device.
(1)Body
The Body adopts integrated casting body with high quality, trough manual tempering and aging treatment by three times. The surface of the guide way is treated by super audio quenching, the structure is reasonable,to ensure rigidity, precision and the stability of the machine.
(2)The power head
The body of power head is adopt excellent casting,spindle use material 20GrMnTAi,with forging, tempering, carburizing and quenching, high precision grinding out and in. The bearing adopts NN30 series high precision double row cylindrical roller bearing to ensure the rigidity and precision of the spindle.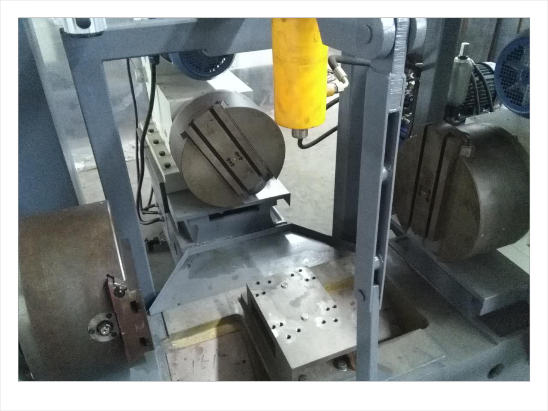 (3)The Fixture
The fixture is special designed for workpiece. The positioning block and positioning pin are quenched,to ensure the reliable positioning of workpiece. Hydraulic clamped the workpiece, to improve processing efficiency, reduce labor intensity.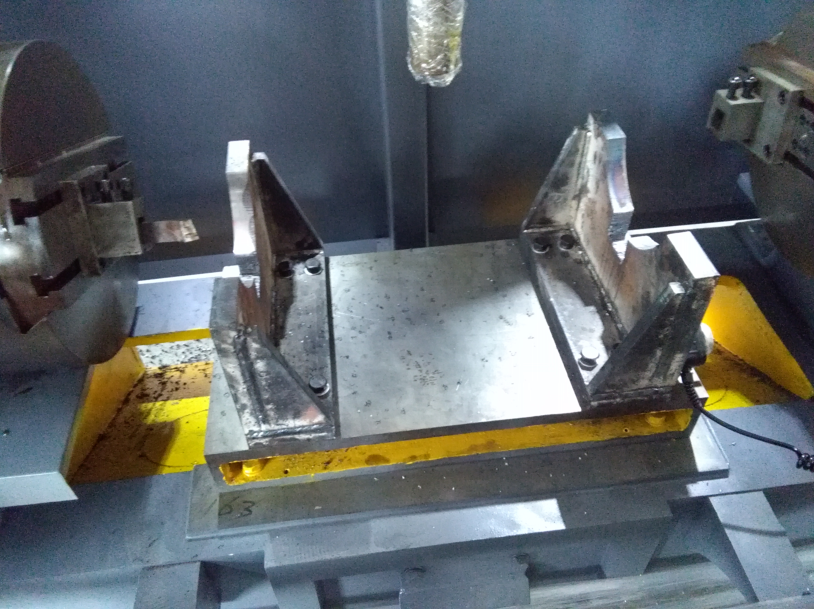 (4)Hydraulic Device
 The hydraulic station adopts the independent Superposition valve, which is composed of a high quality electromagnetic valve, a pressure regulating valve, a throttle valve and a double vane pump. And equipped with air cooling device to ensure that the hydraulic station has normal oil temperature when it works.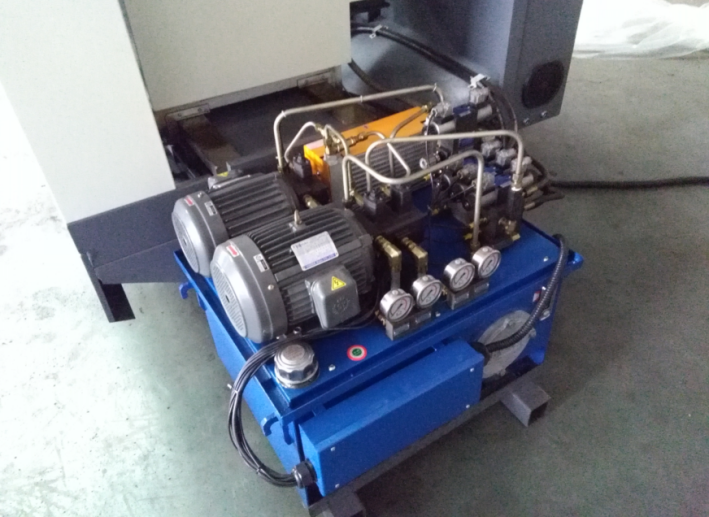 (5)Electrical cabinet
The Electrical cabinet is independent and closed.Installed with CNC controller, Inverter and electrical components.Also set air cooling device to ensure that the electrical components of the machine work properly, no dust.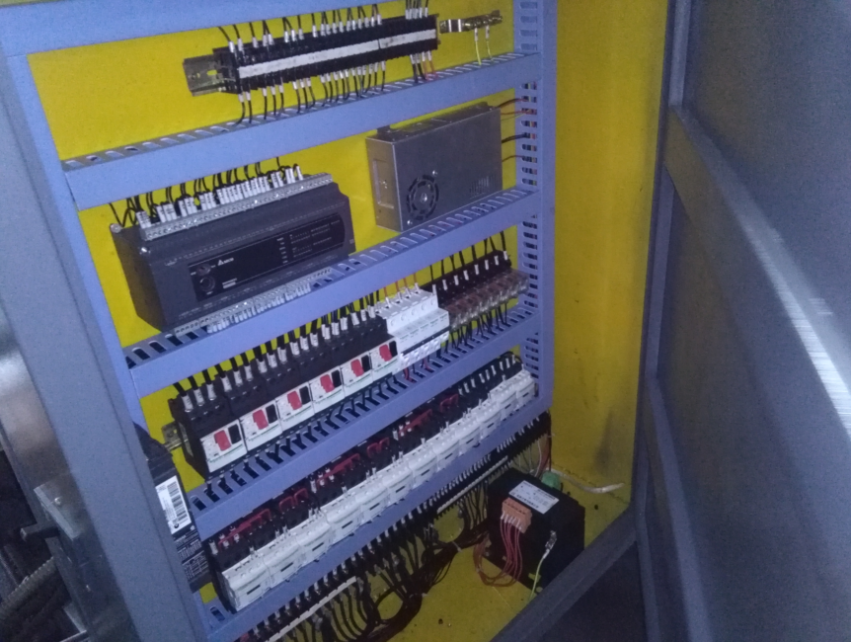 (6)Centralized lubrication device
The Lubrication system equipped with Nanjing Beiqier progressive lubrication device,pump the lubricating oil into the moving parts regularly. Avoid tedious manual operation, improve the life of machine tools.
(7)Cooling chip remove device
This Valve CNC machine adopts heavy flow cooling, The iron chips are washed by the cooling water to flow into the chip removing device through the chip removing mouth of machine body.Chips are saved into one box to ensure the cleanliness of the machine tool and reduce the labor intensity
(8)Multifunction CNC Controller
This product is a high-quality CNC device with all digital bus.It keeps abreast with overseas high-grade  CNC Controller,adopts upper and lower machine structure using double CPU module, modular and open architecture,based on NCUC industrial fieldbus technology with independent intellectual property rights. It has the functions of multi channel control technology, five axis machining, high speed and high precision, turning milling compound and synchronous control, using 15 'LED LCD screen. Mainly used in high speed, high precision, multi axis, multi channel vertical, horizontal machining center, turning and milling center , 5 axis gantry machine, etc.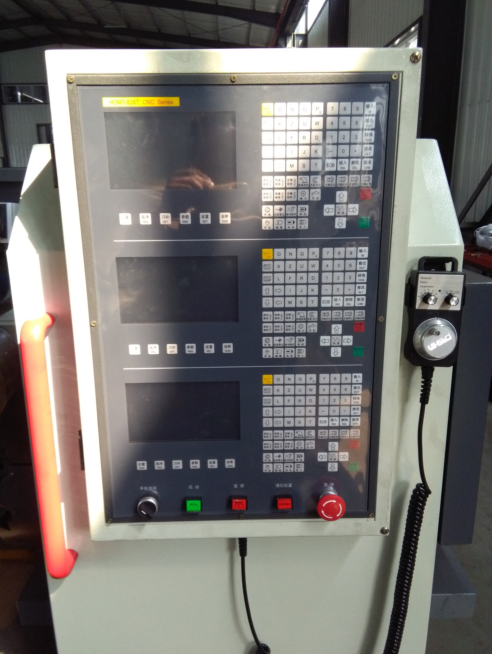 Specification
Machining range

Power head dia.(mm)

φ400

Max.Machining Length(mm)

Φ600

Max.Machining Dia.(mm)

Φ460

Spindle

Spindle Center Hight(mm)

Φ385

Motor power(kw)

5.5kw/5.5KW/5.5KW

Spindle speed-Gear stepless (r/min)

110/140/190

Feed

Rapid Moving

(mm/min)

X-axis

3000

Z-axis

3000

Travel

X-axis/Z-axis(mm)

150/350

CNC Controller

GSK

980-TB3

Others

Power

AC 380V/50Hz

lubrication

Electronic lubrication

Fixture

Hydraulic clamping

Weight(kg)

5300

Dimension(mm)

3600x2300x2000
---
---
Send your message to us:
Write your message here and send it to us